This post is a copy from Design at Sun blog.
Jiri Mzourek is a senior manager in xDesign, responsible for Sun Developer Products and SOA/BI. In his spare time, he evangelizes usability in the Czech Republic by organizing SIGCHI meetings, World Usability Day, and working closely with the Czech Technical University on usability and accessibility related projects.
In 2004, our xDesign team in Prague was facing a problem: the number of usability studies we needed to do in Prague kept growing and growing. Since we had no usability lab, we did all of our testing in two meeting rooms that the rest of the company also used. One served as observation room and the second one as testing room. It worked … but there were two main issues. We had to "build" the lab every time from scratch, and it took about a day to run wires, set up the computer and camera equipment, and move furniture. The second, even bigger, problem was not having enough space. Sun had started its expansion in Prague, so we were hiring a lot of new people, and the building was very crowded. It became harder and harder to find two meeting rooms that were next to each other and available for a couple of days. And it was impossible to build a lab in the building: there was no space for it!
So I started a discussion with the Department of Computer Science at Czech Technical University. Our history of cooperation had started earlier, in 2003, when I was networking with other interaction designers in the Czech Republic. I found out that the person in charge of Czech SIGCHI was my former professor, Prof. Pavel Slavik. So I contacted him, and we quickly found that both Sun and CTU were interested in cooperating in the field of usability. But that's a different story, which deserves its own post.
Then in 2004, we discussed usability labs, reached an agreement and made a deal: Sun would supply the equipment and know-how, and CTU would supply the space and construction. Both institutions would share the facility, and, after three years, CTU would keep all usage rights and equipment. To construct the lab, we worked closely with the manager of Sun's U.S. usability labs at the time, J.O. Bugental, and we outsourced the equipment and configuration work to a vendor.
The lab was designed and built to contain both standard analog technology (a scan converter and DVD burner) as well as fully digital technology, which is currently mostly running on Morae. There is no one-way mirror — we observe the tests using monitors and video cameras.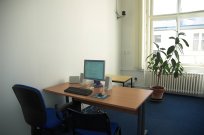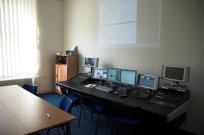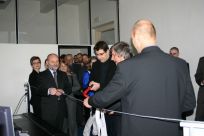 The lab officially opened on November 15, 2004, and the Czech Minister of IT, Vladimir Mlynar, attended. It was the first usability lab in the Czech Republic and, most likely, in all of Eastern Europe!
After the lab opening, we also supplied the promised know-how in two ways. First, we arranged for an external company, Relevantive, to provide a four-day training for teachers and Ph.D. students, which covered usability basics including usability evaluation. Second, we cooperated on ongoing projects, coaching and mentoring students as well as teachers.
Since 2005, CTU added usability to its standard curriculum and became the Czech Republic's leading university in this field. Hundreds of students have access to the lab every year and use it to run their accessibility and mobile device projects.
So this is the story of the first lab. I will talk about the second lab in a later post.