Opening of Center of Excellence Focused on Accessibility and Usability in Prague
This post is a copy from Design at Sun blog.
xDesign cooperates with Czech Technical University in Prague (CTU) for more than 5 years. For example in 2004, we have opened first local usability lab, from 2005 we organize every year local World Usability Day and also recently we cooperate together on local chapter of Prague ACM SIGCHI.
Czech Technical University is one from the oldest technical universities in the world, established in 1707. Computer science department was established in 1964. The department has long term experience in the field of accessibility and cooperation on European Union projects. Recently, since the part of the department dedicated to computer graphics, HCI and accessibility is still growing, was a new department established: Department of computer graphics and interaction.
Sun Center of Excellence is an official framework for cooperation with universities. There is an official contract signed with description of work and deliverables, usually for 3 years. This one, with CTU, is for accessibility and usability in the area of development of applications (web, desktop, mobile). All results will be open sourced.
The official opening was on December 9th done by Peter Korn and Pavel Suk (director of Sun Prague Engineering Center) and the dean of the faculty Prof. Frantisek Vejrazka.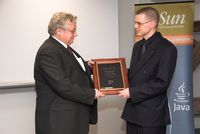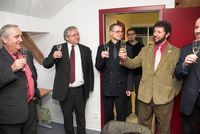 More pictures:
http://picasaweb.google.co.uk/mzourek/CTUCoE#
We closed the day in the atmosphere of accessibility in the restaurant "Pod kridlem noci", where you eat in complete darkness and you are served by blind waiters. Definitely interesting experience!